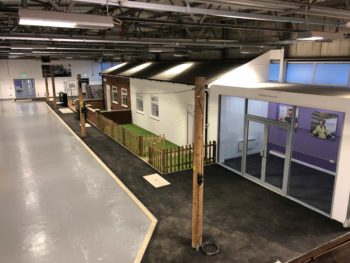 We have been recently working in Peterborough on the BT "Open Street" training centre.  The many weeks of hard work have resulted in an impressive training area for the BT staff.
The works involved the transformation of an old BT workshop into a fake street scene, including houses, flats, shops, paths, roads, fake building site and even a telegraph pole!
This provides a bespoke training facility for BT engineers to learn away from occupied and otherwise busy streets.
On completion the site was officially opened by the Work and Pensions Secretary the Right Honourable Amber Rudd MP.
More sites are planned and we are hoping to be involved in similar projects in the future.